About Us
Mission
The small group of women who organized the Sorority was conscious of a privileged position as college-trained women of color, just one generation removed from slavery. They were resolute that their college experiences should be as meaningful and productive as possible. Alpha Kappa Alpha was founded to apply that determination; however, its influence extends beyond campus quads and student interest. It has a legacy of service that deepens, rather than ends, with college graduation.
The goals of its program activities center on significant issues in families, communities, government halls and world assembly chambers. Its efforts constitute a priceless part of the global experience in the 21st century.
Since its founding over a century ago, Alpha Kappa Alpha's mission has been to cultivate and encourage high scholastic and ethical standards, to promote unity and friendship among college women, to study and help alleviate problems concerning girls and women in order to improve their social stature, to maintain a progressive interest in college life, and to be of "service to all mankind."
Esther Garland Pollard - Xi Zeta Omega's Guiding Light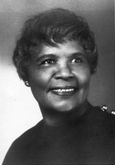 Planning Coordinator of the Second Alumna Chapter Interest Group (1981)
Prior to her membership in Xi Zeta Omega, Esther Pollard was a chapter president, and a board member of the Alpha Kappa Alpha's international governing board as:
- Graduate Member-At-Large (1962-1966)
- North Atlantic Regional Director (1966-1970)
- International Treasurer (1974-1978)
Xi Zeta Omega through the years...
A new beginning awaited the 80 phenomenal women who chartered Xi Zeta Omega on January 16, 1982. Xi Zeta Omega celebrated its chartering during the 74th anniversary of Alpha Kappa Alpha on the hallowed grounds of the Sorority's founding - Howard University. The history of Xi Zeta Omega will forever reflect the significance as to the date and place of its chartering. What the members of Xi Zeta Omega have done and achieved over the years is in keeping with the charter members' creative spirits. From its inception to the present time, Xi Zeta Omega has focused its activities on implementing the Sorority's programs and the establishment and development of programs to benefit the Washington, DC community.
1982-1986
In observance of Black History Month and Alpha Kappa's Alpha's Focus on the Arts, Xi Zeta Omega hosted a special reception and showing of the exhibit "Black Folk Art America: 1930-1980" at the Corcoran Gallery of Art. The exhibit brought together approximately 350 works of twenty artist to reveal the striking range of and quality of painting and sculpture among Black folk artist.
WKARAMA- Women of Alpha Kappa Alpha: Wake up to the critical local, national, and international issues and concerns of our society. The WAKARAMA series of seminars was the forum through which Xi Zeta Omega focused on these concerns and issues.
As part of our education outreach, Xi Zeta Omega adopted Washington DC's Banneker Academic High School which stresses excellence in academic. Outstanding achievement awards are presented to two students.
Our international outreach focused on providing selected services for an African village in Pangani, Kenya.
Two senior citizens groups were adopted by Xi Zeta Omega, Asbury Dwellings and Ferrell's Convalescent Home.
1986-1990
"Service With a Global Perspective" was the focus during this time and Xi Zeta Omega found many ways to implement this programmatic charge from the corporate office.
Financially supported the Africare project in Mali, West Africa of digging water wells.
Financially supported the African Tree Planting Project.
Sponsored a bicycle project so that the women of Nairobi, Kenya would have a means of transportation.
Adopted the Pan Gani School in Nairobi, Africa.
Hosted international dignitaries.
Hosted students visiting Washington, DC via the Domestic Travel Tour.
1990-1994
Chapter highlights during this time include:
The chapter held its first Youth Service Awards program.
Held numerous community forums on what statehood means for the District of Columbia.
The chapter held its 4th International Forum featuring the DC/Dakar Sister Cities Program.
A clothing drive was held for the Southwest Community House Association.
Our 1990 health fair "Get Hyped for Health" was held at Stuart Hobson Middle School.
The chapter gave of its time and money to the border babies at Howard University Hospital and collaborated with the Greater Southeast Community Hospital to schedule breast health education programs and schedule breast screening examinations. We held our first breast education program at the House of Ruth, a shelter for battered and abused women.
Implemented a variety of program activities designed to carry out the national theme of "Creative Strategies for Action: Addressing the Crisis of the 1990's."
Xi Zeta Omega sponsored its first black male conference, "Strengthening the Black Family," at Ballou High School. Fifty young black males ranging in ages from 10-18 enjoyed a fun-filled day. Then, DC Shadow Senator, Rev. Jesse Jackson gave an uplifting message to the young men.
1994-1998
The primary goal of the 1994 program platform of Xi Zeta Omega was to positively influence the lives of children and their families in the District of Columbia. This goal was achieved through volunteerism, financial support, public recognition, and education. Special projects that focused on children were implemented under certain target areas.
Xi Zeta Omega held its first Black History Month program at Shadd Elementary School.
In 1995 Xi Zeta Omega continued to provide outstanding service to all mankind through some of the same program activities from the previous year. However, Xi Zeta Omega being the over achieving chapter that it is did add some new programs in 1995. For example:

Math/Science Essay Contest
Bingo Night @ Asbury Dwellings
Senior Citizens Month
Taking Time Out: A Day of Caring Community Service Project:
WHMM-TV Membership Drive

If it were possible to reach any consensus about high-priority solutions to our society's problems, a good education throughout the first two decades of life would be a prime candidate. The 1996-97 community service programs of Xi Zeta Omega continued its commitment to helping young people in the District of Columbia maximize their potential for success.
1999-present
Xi Zeta Omega has supported the youth of the Washington DC metropolitan area in a number of ways. Our education-related services include a partnership with a local DC public high school to enhance the educational experiences of its students, mentoring and tutoring students at the Washington Middle School for Girls, mentoring of at-risk teenage girls with Young Ladies of Tomorrow, and awarding academic scholarships. Xi Zeta Omega has also developed youth-centered programs designed to strengthen the Black family, which include:
The Youth Service Awards Program
, which recognizes young people and youth-serving organizations that exemplify, promote, and support positive youth development; as well as the Black History Youth Oratorical Contest, which focuses on the writings of famous African Americans and promotes self confidence through public speaking.
Additional programs sponsored by the chapter include: providing various medical screenings for the community annually at the NBC 4 Health and Fitness Expo; providing warm clothing to 100 homeless persons through the Warm the Homeless Project; playing with the orphans and wards-of-the-court at
St. Ann's Infant and Maternity Home
; separating food for the needy at the
Capital Area Food Bank
; providing full meals for at least four families during the holiday season; playing Bingo every-other-month, as well as celebrating the Christmas holiday with the residents of Asbury Dwellings, a local senior citizens residential community; Alpha Kappa Alpha Black Dollar Month, which promotes economic empowerment through the support of black-owned businesses; and a blood donor recruitment project designed to increase the number of black donors in the Washington community.
In addition, Xi Zeta Omega makes financial contributions to several community-based, national, and international organizations.
Beginning in 2007, Xi Zeta Omega began to focus more heavily on the economic empowerment of communities of color.
Greater laurels to win
As Xi Zeta Omega contemplates its future her members know that there are seasoned professionals from all walks of life upon whose experiences we depend to give direction for helpful program development and implementation. Mutual concern is the cornerstone of Xi Zeta Omega, each member strives to share their time and talent to more effectively provide the services desperately needed by so many in our community and make the kind of impact that will improve the quality of life around us. The economic and social pressures of this nation are weighing most heavily on those less able to cope with the problems that lie ahead. While it is impossible for Xi Zeta Omega to give service in every area, we will focus on one area at a time and offer a measure of hope through which some might be sustained in their quest for a brighter future.